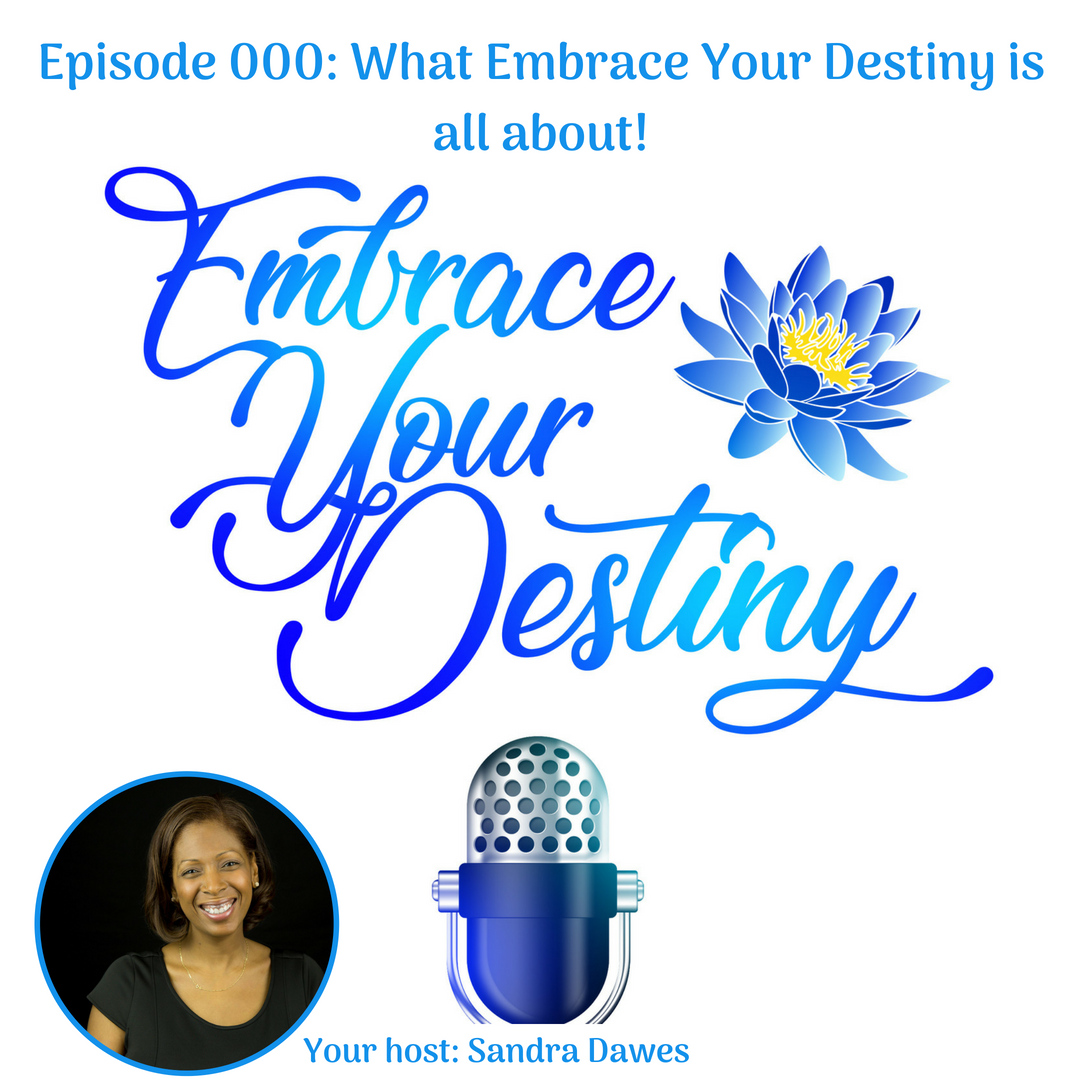 This is the introductory episode of the Embrace Your Destiny podcast. Hosted by Sandra Dawes, Certified Life Coach, Author and Speaker, she interviews women who have experienced a life altering moment in their life. These events may have knocked them out, but they got back up stronger than ever!
Each guest will share her story of triumph over the trials and tribulations we all experience in one way or another in this journey called life.
About the host:
Sandra Dawes is a recovering control freak and excuse maker who works with clients struggling with similar issues. She holds an Honors BA, an MBA and a certificate in Dispute Resolution. After the passing of her father and circumstances that followed, she suffered from bouts of depression and sought the help of psychotherapists. Unwilling to seek pharmaceutical assistance to deal with her chronic unhappiness, she was lead on a journey of self-awareness and forgiveness that changed her life in deep and meaningful ways.
Sandra enjoys spending time with friends and family, her partner Satnam and her dog Lulu. She published her first book Embrace Your Destiny: 12 Steps to Living the Life You Deserve in 2013.
Sandra was added to the Wall of Role Models by the Diversity Advancement Network in July 2016.
You can find more articles and learn more about Sandra and the programs and products she offers at www.embraceyourdestiny.ca.
You can also find Sandra in the following places:
Facebook: https://www.facebook.com/EmbraceYourDestiny
Instagram: https://www.instagram.com/embraceurdestiny
Twitter: https://www.twitter.com/mbraceurdestiny
Show Notes:
00:12 - Who is this podcast for?
00:30 - Purpose of the interviews
01:06 - Life's challenges as a course correction
01:31 - Stories of hope
01:48 - Losing my father and the grieving process
02:30 - Depression diagnosis and rejecting anti-depressants
03:10 - Watching The Secret = more questions than answers
03:30 - Introduction to Esther Hicks
03:50 - Down the rabbit hole of personal growth and development
04:45 - The choice was mine
05:15 - The impact of the journeys of Louise Hay and Wayne Dyer
05:40 - Why the guests have been chosen
06:05 - The structure of the interviews
06:30 - The types of experiences of the guests
07:25 - Tragedy can lead to clarity
08:03 - This too shall pass
09:02 - Biggest take away
09:40 - Podcast expectations
09:56 - Length of episodes
10:14 - Podcast format
10:38 - Frequency
11:20 - Do you have a story to share?