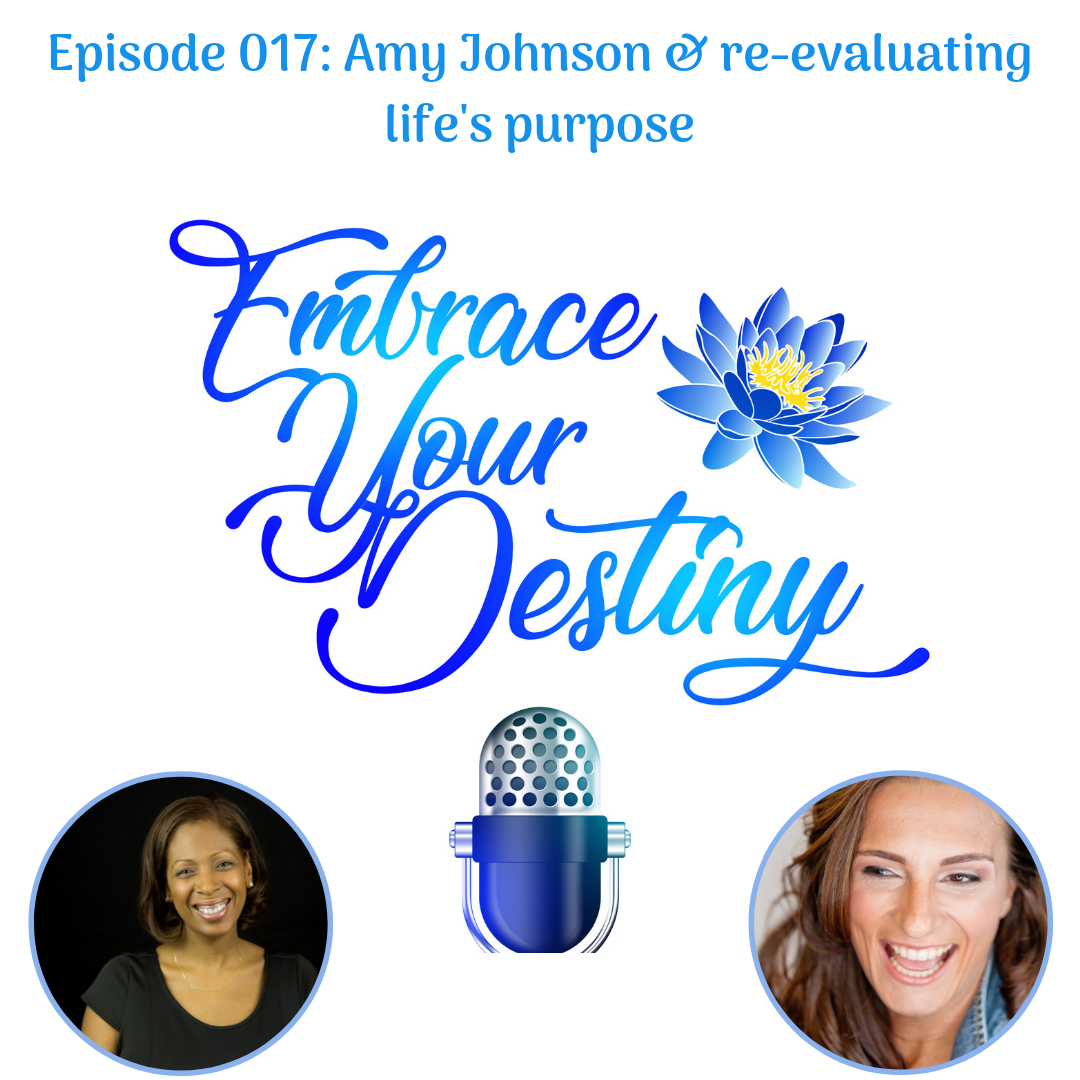 About Amy:
Amy Johnson of AmyJ.co, has built her life and business on the belief that your path can be a casualty of your circumstance or championed by your convictions.  Staying true to this belief, Amy reaffirms her commitment to her convictions daily.  With a structured combination of holistic practice, curated organization, dedicated education and cultivated partnerships – she believes anyone can live a truly balanced and prosperous life.
Facebook: https://www.facebook.com/amyj.co/
Instagram: https://www.instagram.com/amyj.co/
SHOW NOTES:
00:07 - Embrace Your Destiny podcast introduction
00:28 - Introduction to Amy Johnson
01:06 - Amy shares her story
09:46 - Life can change at any moment!
10:10 - Amy tries to deal with life's chaos
11:05 - Amy gets an opportunity for a fresh start
12:05 - The need to cut ties
15:41 - Removing yourself from relationships can be a good thing for everyone!
16:08 - Amy's biggest lesson
17:16 - Lessons and opportunities can come from negative experiences
20:06 - How tragedy affected Amy as a mother
23:22 - There can be joy in loss
24:25 - Amy's advice for others going through something similar
28:45 - Final thoughts 
About your host:
Sandra Dawes is a recovering control freak and excuse maker who works with clients struggling with similar issues. She holds an Honors BA, an MBA and a certificate in Dispute Resolution. After the passing of her father and circumstances that followed, she suffered from bouts of depression and sought the help of psychotherapists. Unwilling to seek pharmaceutical assistance to deal with her chronic unhappiness, she was lead on a journey of self-awareness and forgiveness that changed her life in deep and meaningful ways.
Sandra enjoys spending time with friends and family, her partner Satnam and her dog Lulu. She published her first book Embrace Your Destiny: 12 Steps to Living the Life You Deserve in 2013.
Sandra was added to the Wall of Role Models by the Diversity Advancement Network in July 2016.
You can find more articles and learn more about Sandra and the programs and products she offers at www.embraceyourdestiny.ca.
You can also find Sandra in the following places:
Facebook: https://www.facebook.com/EmbraceYourDestiny
Instagram: https://www.instagram.com/embraceurdestiny
Twitter: https://www.twitter.com/mbraceurdestiny