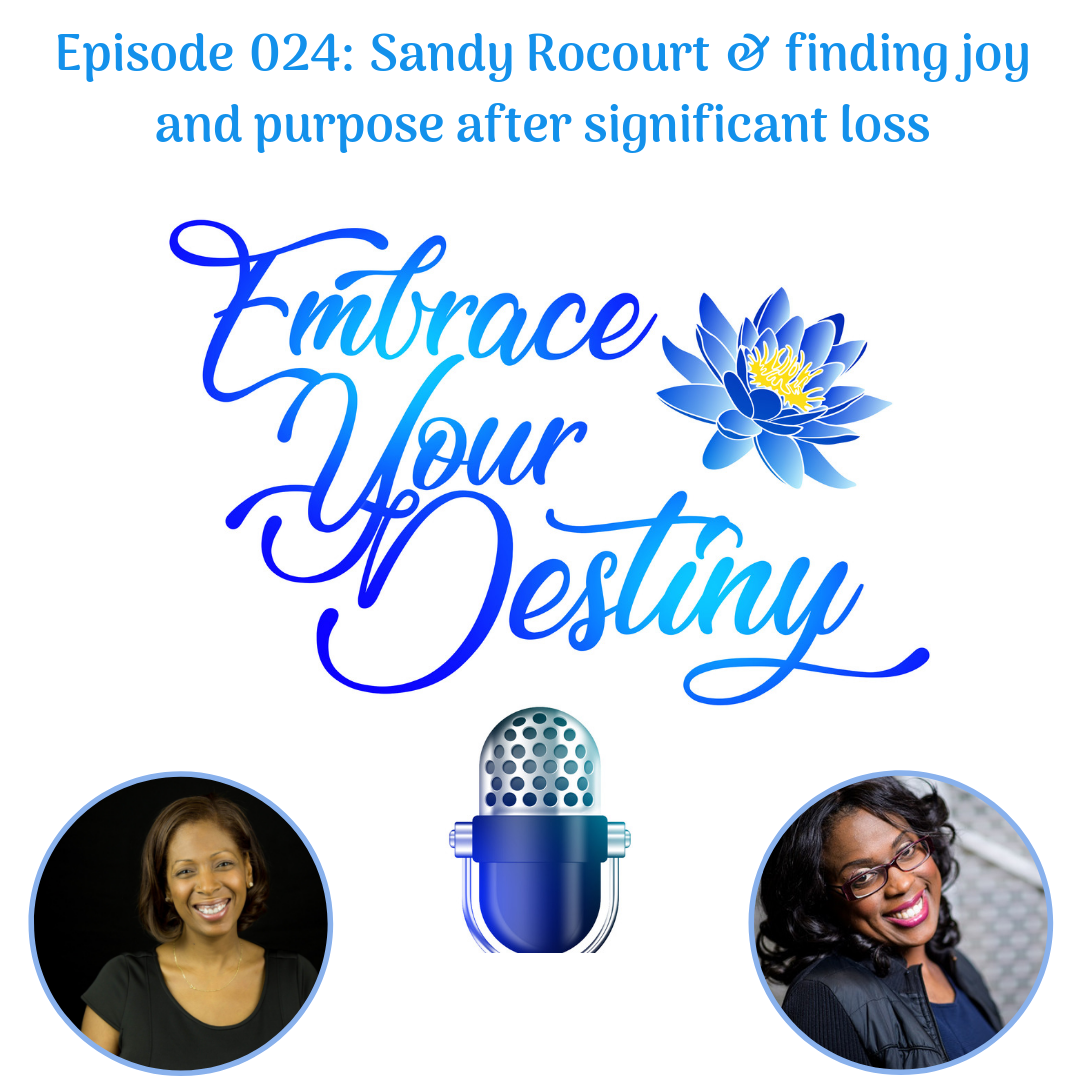 About Sandy:
Sandy Rocourt is a creative writer, speaker, and strategic transformational educator, who helps clients turn the tragedy of loss & heartbreak into the strength needed to rebuild their lives. Sandy is currently completing her memoir by winter of 2019.
After going through multiple traumatic losses in a short 3-year span, Sandy found triumph when she discovered a library of personal development books that her now deceased sister had collected. Her journey of self-discovery led Sandy to become a graduate of the acclaimed Robbins-Madanes life coach training program and dedicate her life to empowering others to develop their own toolbox to overcome life's storms.
Today, Sandy works with clients through group coaching and speaking engagements to teach you how to move beyond the pain of grief and loss in order to create happiness, build stronger relationships, and live with intention and fulfillment.
Where to find Sandy:
Facebook: https://www.facebook.com/sandyrocourt/
Instagram: https://www.instagram.com/sandyrocourt/
Website: https://sandyrocourt.com/
SHOW NOTES:
00:07 - Introduction to Embrace Your Destiny Podcast
00:48 - Sandy Rocourt's biography
01:55 - Sandy shares her story
05:10 - Enduring a year and a half of struggle
07:05 - Money Master the Game: 7 Simple Steps to Financial Freedom - Tony Robbins
09:10 -  Books really can save you!
11:21 - Sometimes requests for help are left unanswered
12:52 - Sandy struggles to find her purpose
15:00 - Sandy does the fire walk at Tony Robbins Unleash the Power Withing event!
16:08 - Sandy's biggest lesson
20:33 - Writing as a therapeutic tool
21:42 - Sandy offers advice to anyone going through a similar experience
30:45 - Sandy shares her final thoughts
About your host:
Sandra Dawes is a recovering control freak and excuse maker who works with clients struggling with similar issues. She holds an Honors BA, an MBA and a certificate in Dispute Resolution. After the passing of her father and circumstances that followed, she suffered from bouts of depression and sought the help of psychotherapists. Unwilling to seek pharmaceutical assistance to deal with her chronic unhappiness, she was lead on a journey of self-awareness and forgiveness that changed her life in deep and meaningful ways.
Sandra enjoys spending time with friends and family and her partner Satnam. She published her first book Embrace Your Destiny: 12 Steps to Living the Life You Deserve in 2013.
Sandra was added to the Wall of Role Models by the Diversity Advancement Network in July 2016.
You can find more articles and learn more about Sandra and the programs and products she offers at www.embraceyourdestiny.ca.
You can also find Sandra in the following places:
Facebook: https://www.facebook.com/EmbraceYourDestiny
Instagram: https://www.instagram.com/embraceurdestiny
Twitter: https://www.twitter.com/mbraceurdestiny