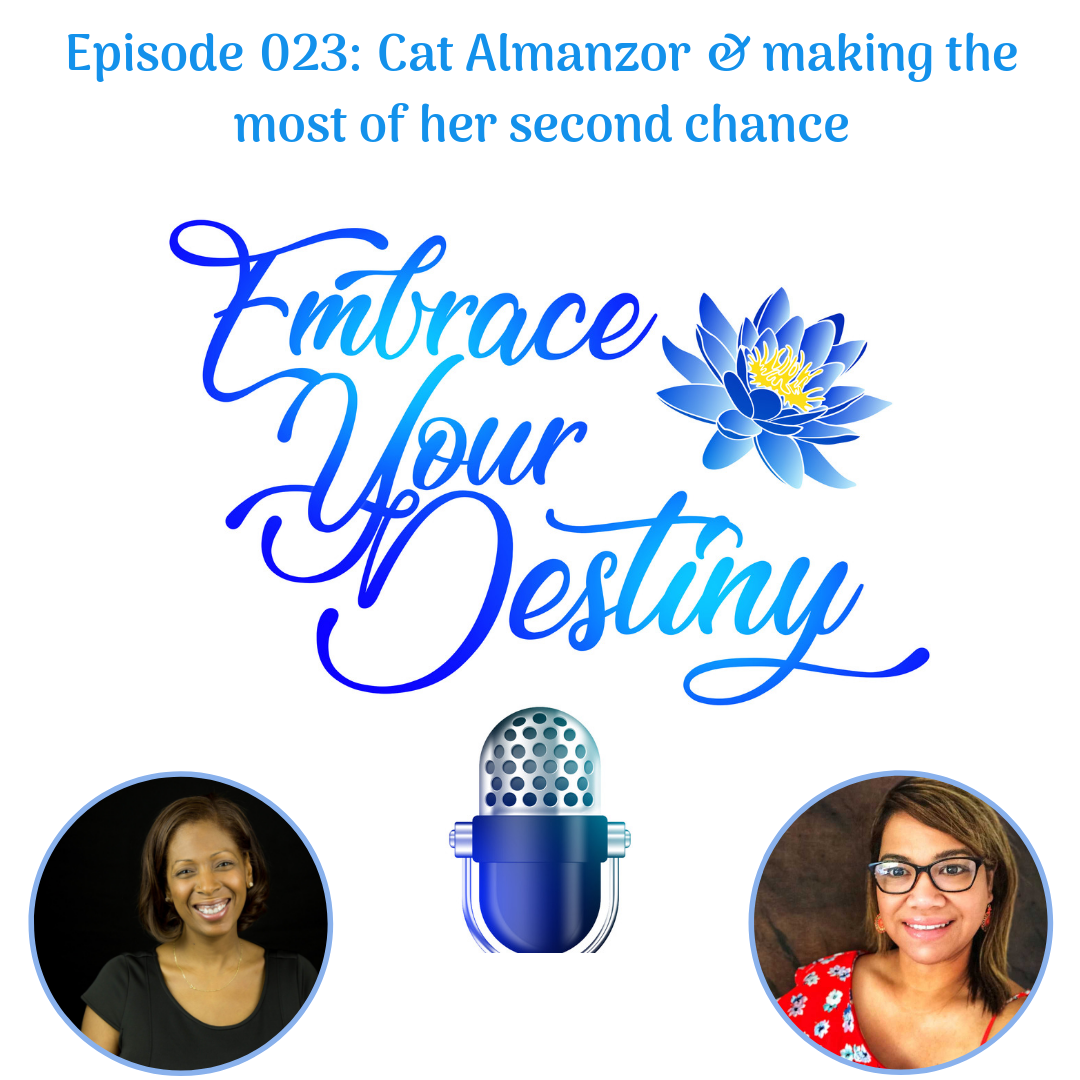 About Cat:
Cat Almanzor is a transformational life coach for the mind, body, and spirit. Her mission in life is to equip women to transform pain into power. She partners with women after experiencing toxic relationships, traumatic experiences, or severe life stressors. Cat has known defeat, suffering, struggle, and loss, and she has found her way out of those depths. It was a back‐to‐back life tragedy that served as a painful catalyst for Cat to create a life of pure purpose.
She is passionate about empowering women to walk with purpose and stand in their authentic unique identity. Cat is a single mom to two teenagers, a brain injury survivor and warrior, a social‐media guru, investor, and kickboxer. She grew up in a small province in the Philippines and currently resides in Seattle, Washington. 

Where to find Cat:
Instagram:   https://www.instagram.com/catalmanzor/
SHOW NOTES:
00:09 - Embrace Your Destiny Podcast introduction
00:28 - Cat Almanzor's introduction
01:10 - Cat shares her story
01:47 - Cat gets a phone call no parent wants to receive
04:50 - Cat goes to the Philippines to see her dying grandmother
05:40 - The need to be strong for her family leaves no time for grief
06:46 - Cat's health starts to decline
08:42 - Cat heads off to another hospital in an ambulance and wakes up 3 months later
09:28 - Cat has to re-learn the basics
11:15 - Setting personal goals helps with rehabilitation
12:24 - Cat deals with rehabilitation and new life after divorce at the same time
12:58 - Cat remembers praying for another chance during her time at the hospital
14:37 - First 8 months out of the hospital are the most productive of Cat's life
15:07 - Cat discovers her life's purpose
17:19 - Cat shares her biggest lesson
19:10 - Cat competes in her first half marathon!
21:44 - Cat's advice for others dealing with life's challenges
24:44 - Cat's final thoughts
About your host:
Sandra Dawes is a recovering control freak and excuse maker who works with clients struggling with similar issues. She holds an Honors BA, an MBA and a certificate in Dispute Resolution. After the passing of her father and circumstances that followed, she suffered from bouts of depression and sought the help of psychotherapists. Unwilling to seek pharmaceutical assistance to deal with her chronic unhappiness, she was lead on a journey of self-awareness and forgiveness that changed her life in deep and meaningful ways.
Sandra enjoys spending time with friends and family and her partner Satnam. She published her first book Embrace Your Destiny: 12 Steps to Living the Life You Deserve in 2013.
Sandra was added to the Wall of Role Models by the Diversity Advancement Network in July 2016.
You can find more articles and learn more about Sandra and the programs and products she offers at www.embraceyourdestiny.ca.
You can also find Sandra in the following places:
Facebook: https://www.facebook.com/EmbraceYourDestiny
Instagram: https://www.instagram.com/embraceurdestiny
Twitter: https://www.twitter.com/mbraceurdestiny